CGR10211
Stihl TS420 Masonry Saw
Product Description
This Stihl TS420 masonry saw is the professional's choice to hire. Its long-life filter system with cyclone pre-separation makes on site maintenance unnecessary. Extremely low vibration levels (3.9m/s²). High performance engine with stratified charge system. Compact design and optimised balance for excellent cutting and guide characteristics.
For use with 350mm cutting wheel.

ElastoStart, primer pump and decompression valve.

Bayonet filler cap for tool free opening.

Can be hand held or used with the FW 20 cart.

Supplied with abrasive cutting wheel.
Prices shown up to 12 weeks. For hire periods over 12 weeks, please call or email us for the best rates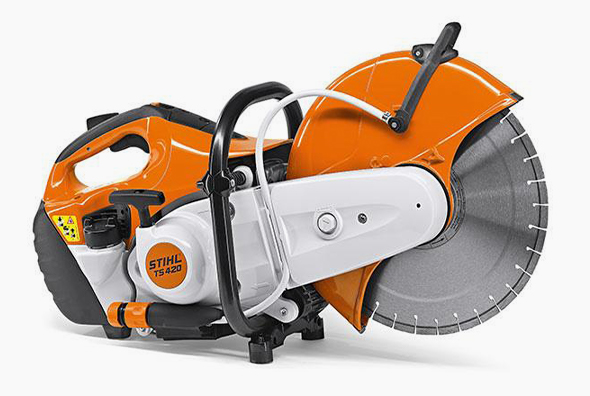 Our Prices
*
Excluding or Including VAT
Delivery & pick up
All costs are subject to delivery charges if you are not collecting your items. This is calculated when you checkout but will be confirmed by our Hire team when they call to confirm your order and take payment. This covers the cost for us to deliver the items and pick them up from you at the end of the hire period.
Damage Waiver
There is an optional (but highly recommended) 20% Damage Waiver fee added. If you choose not to take this, you will be liable for the cost of repair or replacement should the product be damaged or lost/stolen while you have it. Read more about our Damage Waiver.
Safety Information

Low Vibration Risk – The green range has been set at 0 – 5m/s2 allowing equipment to be used regularly throughout an 8 hour shift with low risk of vibration injury.

View Safety information

Specification

Specification

PLEASE NOTE: Details and specifications contained herein, are correct at the time of publishing. We reserve the right to change specifications at any time without prior notice.

CO2

747g/kWh

Capacity

66.7cm3

Performance

3.2kW

Vibration Value (Right)

3.9m/s2

Weight

9.75kg

Sound Pressure Level

98dB(A)

Sound Power Level

109dB(A)

Vibration Value (Left)

3.9m/s2

Tank Volume

0.71l

Power Output

3.2kW

Cutting wheel

350mm

EPA Certified Fuel Consumption

2048l/h

Features & Applications

Features & Applications

PLEASE NOTE: Details and specifications contained herein, are correct at the time of publishing. We reserve the right to change specifications at any time without prior notice.

Reduced-emission engine technology
Manual fuel pump (Purger)
Water supply
Pre-separation air filtration system
Anti-vibration system
Ergonomic grip position
Semi automatic drive belt tensioning